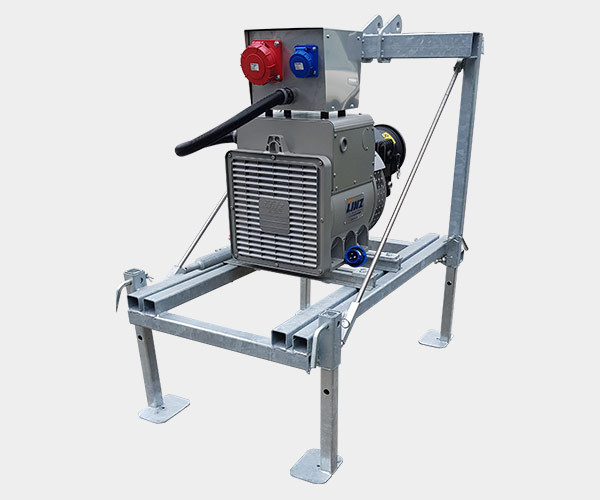 The Starpower GTS and GTE series PTO generators have been designed for specific use in the agricultural sector to power electrical loads in the absence and / or in emergency to the public network with discontinuous service.
With a wide range of powers available varying from 10 to 80 kVA with output voltage 400/230 Vac three-phase 50 Hz; other executions are available upon request.
Starpower PTO generators are ideal for a company that cannot afford to waste time, supporting it when it needs electricity.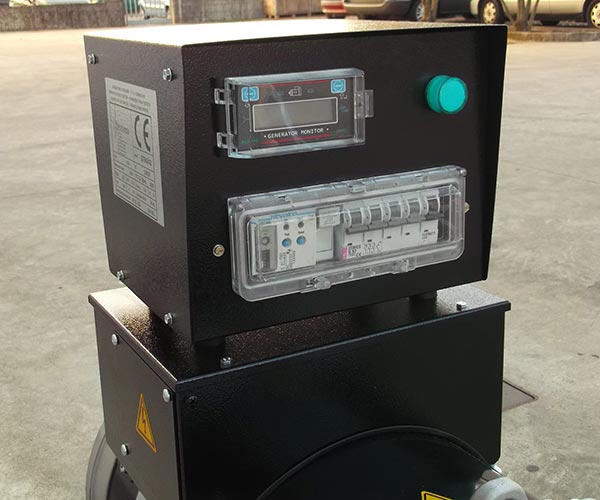 THE NEW CONTROL PANEL was designed focusing on the needs of the final user, allowing you to view all the electrical parameters generated by the machine during its use. The panel is equipped with an easily readable digital display and a signaling lamp which lights up when the PTO generator has reached the correct working frequency. In this way, it guarantees the correctness of the electrical parameters supplied by the PTO generator, protecting the alimentary tools by automatically releasing it if the values deviate from the recommended values (protection for min/max voltage - min/max frequency - max current).
The panel is also equipped as standard with a differential protection relay with intervention thresholds that can be adjusted for both time and intensity, guaranteeing the safety of the machine and of the utilities connected to it.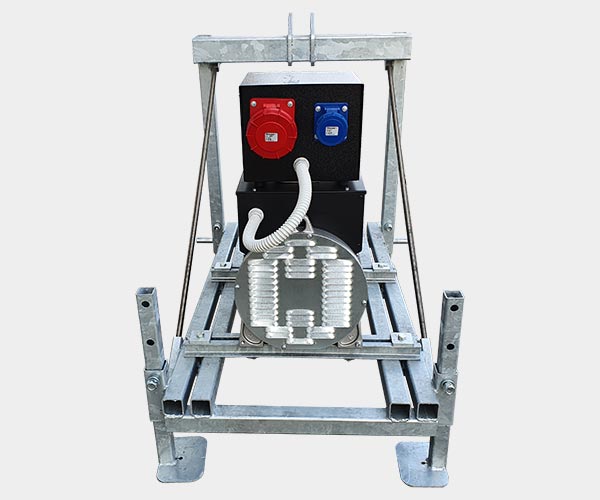 Standard set up
• Synchronous ALTERNATOR with brushes (GTS series) or brushless (GTE series) from a leading Italian manufacturer; in three-phase execution 400/230 Volt 50 Hz 2 poles 3000 revolutions per minute (GTS series) or 4 poles 1.500 revolutions per minute (GTE series) with accessible neutral; self-excited and self-regulated with compound regulation +/- 5% (GTS series) or with electronic regulation +/- 1% (GTE series) insulation and overtemperature in class "H"; IP 23 protection;
• RPM MULTIPLIER in oil bath flanged directly to the alternator and equipped with appropriate accident prevention protection.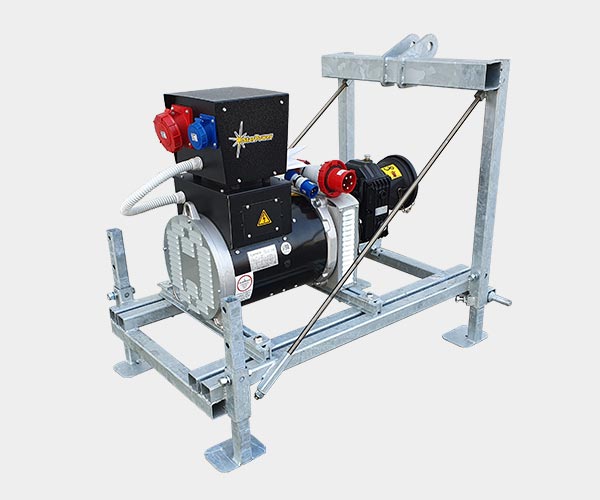 • ELECTRICAL PANEL, , mounted directly above the alternator, comprising: metal box, 16 Ampere protection fuse for the single-phase socket (<= 42 KVA), 3P + N switch for the total power, electronic board with LCD display complete with ABS protection hatch, 1 CEE 5P 400 Volt socket (<= 42 KVA), 1 CEE 2P 230 Volt 16 ° socket (<=42 KVA), anti-vibration pads, ABS protection hatch for the switch and the differential relay, 1 CEE 5P 400 Volt plug (<= 42 KVA), 1 CEEP 2P 230 Volt 16 ° plug (<=42 KVA), differential protection relay with adjustable intervention thresholds
• SUPPORTING STRUCTURE with 3-POINT Hitch that allows fixing to the tractor's hydraulic lift, allowing it to be transported; it is made up of sturdy electro-welded and hot-dip galvanized metal profiles.